One of my favorite things about my relationship with Jenny is our tradition of giving each other memorable dates for Valentine's Day gifts. Coming so quickly after Christmas, we'd normally be hard put to think of another material item that would shock or delight the other, and routine purchases hardly seem romantic.
The point of the dates isn't to impress each other or to try and top each other in some competitive way, it's simply to give the other person a fun new experience that we share together.
Some Valentine's Day dates we've gone on have included indoor arena shows like a minor league hockey game and Monster Jam. Within a month of moving to Texas, we enjoyed Rodeo Austin (Where Weird Meets Western) and it is still one of my favorite memories from our time there.
There's nothing more romantic than competitive betting on Lindsay Loham over Hamma Montana in the Swifty Swine Pig Races.
Another year, we went to the Ringling Brothers/Barnum & Bailey Circus with no way of knowing it would be one of the last chances we'd have to see the Greatest Show on Earth.
Last year we got a little fancy with tickets to The Book of Mormon at the Bushnell Theater in Hartford (her gift to me). It was a great experience made even better for having seen Alton Brown do a live show there a few weeks earlier (my gift to her). Neither of us had any idea what to expect from the other person's show, but we both had a great time.
One of the greatest weekends we ever had together was a Valentine's Day weekend getaway to Newport, Rhode Island, about a year and a half into our relationship. Newport is a beautiful town right on the New England coast. February is not an ideal time to visit, which is why it's easy to get such amazing deals!
Newport Winterfest was a really great time with all of the vendors joining together to offer something special to attract attendees. One night we watched a comedy show in a hotel ballroom and the other night, we danced to jazz surrounded by senior citizens at a fancy oceanside marina that we could never afford during warm weather seasons. We were the toast of the party, simply because we had functioning hip joints.
I also got to drink beer with salty sailors (who didn't care for me at all) while Jenny created this ceramic mug at a pottery studio next door. It cracked along the bottom a few years ago and is now a pen holder on my desk. I look at it often and remember our earliest years of love.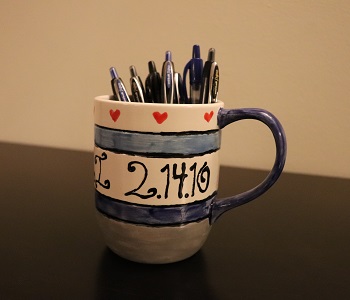 I doubt I'll be getting many love mementos from 25-year-old girls in the future, so it's good to have this one.
Perhaps the reason our tradition of sharing experiences for Valentine's Day works so well is that it came to us organically. We've never made it a rule that Valentine's Day gifts have to be event-based.
In fact, one year I got her tickets to a truffle-making class but ended up being too sick to attend with her. She went anyways and had a great time by herself while I was spared the embarrassment of trying to use a kleenex while my hands were covered in chocolate.
The only experiences that haven't worked out well are the ones where we try to improve the other person. One year, Jenny signed us up for a couple's yoga session that turned out to be in some guy's basement, and you had to jimmy the lock to his fence before going down the hatchway stairs to his basement.
I thought my lack of flexibility would be the most difficult thing about the class, but it turned out to be not laughing at the unmistakable sound of an upstairs toilet flushing during our post-workout meditation. I hope the family member lit some incense when they were through!
Then there was the awkwardness of finding out that the sensei I hired for a private self-defense class (to make Jenny more comfortable walking to her car after starting night classes) wasn't the retired cop I thought I was getting from the website, but instead a five-foot-tall teenager whose first piece of advice was to loudly describe your attacker's appearance while he approached you.
Apparently, this makes attackers fear being identified in a criminal line up. Because most criminals assume they'll be caught. His second piece of advice was to get a gun.
I'm sure there have been some Valentine's Days when we exchanged gifts instead of experiences, but for the life of me, I can't remember what they were. The events though, I remember as clear as day.
With Birthdays, anniversaries, Christmas and so many other life events, we'll have plenty of chances to give each other presents throughout our marriage. When it comes to Valentine's Day, I enjoy spending time together doing something new and celebrating our love, even if the date on the tickets isn't always February 14th.
Next Week: The Comforting Joy of Repeat Vacation Destinations
If you enjoy my columns, please subscribe below.
If you want to syndicate this column, you may contact me here to discuss the details.
You may notice that I've disabled commenting on this post. I'd love to hear your thoughts by email at [email protected]
Share this column on social media: