My biggest goal this winter is to finally get serious about soup. I made a good start at it last year, but this year I'm really trying to dive in and fill my ladle.
I've long since banished Mr. Campbell from the cupboard, but I've been stuck on Progresso for at least a decade now. Sure, the low sodium route has revolutionized my approach, but it's time to bring my soup game out of the bargain bin and into the modern age.
I own two crock pots, a food processor, and a dutch oven. Not to sound souperficial, but there's no reason Progresso ever needs a spot in my pantry again. The biggest problem is that I'm lazy, and generally distrust anything in the freezer that didn't come in its own freshly sealed box with plenty of added preservatives.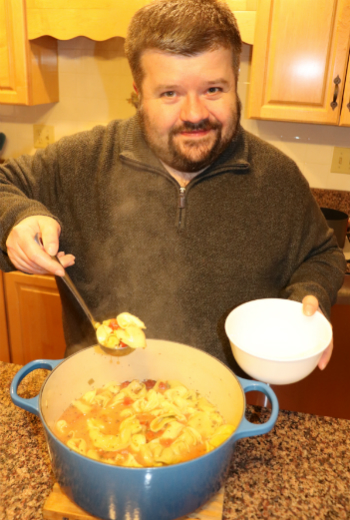 This causes a souper's dilemma (we call ourselves soupers) because most recipes make large batches of soup and freeze it for later use. If I were to do this, I either would either waste a bunch of food or need to start a conversation with someone in real life to give it away. I find both options equally objectionable.
My food explorations come in cycles. A few years ago, I honed in on eggs, learning to make every type featured on the Incredible Edible Egg website. It was a life-changing experience until being usurped by our America's Test Kitchen cookbook.
When Jenny and I first moved in together, we were torn over what kind of potato chips to buy, so each week one of us picked a mystery chip for both of us to try. It started out cute but quickly filled our pantry with partially-consumed bags neither of us wanted. This could easily be my refrigerator's future if we go all in on this soup trial.
Mostly because I'm not very likely to take leftover soup to work for lunch. Soup is notoriously hard to reheat at my stove-top-less office and I've used hair dryers with more heating power than our office microwave.
Plus, there's the demoralizing failure of trying to eat homemade soup with a cheap plastic spoon. It's nearly impossible to balance a tortellini on a flimsy piece of plastic smaller than a teaspoon. And I refuse to be the guy who brings his own soup spoon to the office.
I dread the possibility of someday being laid off and needing to get permission to go back into the office just to collect my soup spoons. All that would do is validate their decision to part ways with me. And I'll be damned if I'm going to let someone who had the nerve to fire me get their hands on my good soup spoons!
Occasionally, I'll get soup when eating out for lunch, but never from the pho shop across the street. My pho-pinion is tainted by my first experience when co-workers tricked me into joining them for lunch in Austin, Texas. The entire experience was a disaster.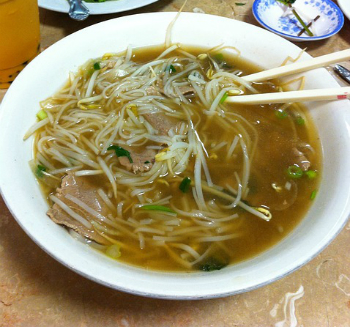 Soup is a cold man's game. I have little tolerance for warm-climate soup eaters and I let them know it. My opinion was as clear as their oddly transparent spring rolls.
The obvious exception to this rule is jambalaya. Them Louisiana bayou folk can keep doing what they do because I've never come close with my box of reduced sodium Zatarain's.
Pho is just too hard to eat. The ridiculously long noodles create a jumbled, tangled mess that splatters down my shirt.
Pho is the iPhone earbuds of soups. If I wanted to eat a puzzle for lunch, I'd go tamale every time. 'Pho sho'.
Nevertheless, I'm consciously pushing my soup boundaries. So far this season I've tried Chinese wonton soup, Thai wonton soup, tom yum, turkey chili, chicken pot pie soup, tortellini, chicken noodle, chicken and rice, and something weird with lemongrass.
I ordered sopa de pollo at a Mexican restaurant in Nashville and it just about made my mother-in-law's head explode. She asked me three times if I'd eaten enough, even though there were two large chicken breasts spread throughout the bowl.
Soup is the Rodney Dangerfield of dinner options – getting no respect at all. This season, I intend to change that.
Next Week: I Believe in Magic (and I Hope You Do)
If you enjoy my columns, please subscribe below.
If you want to syndicate this column, you may contact me here to discuss the details.
You may notice that I've disabled commenting on this post. I'd love to hear your thoughts by email at [email protected]
Share this column on social media: