I've spent every Christmas Eve that I can remember at West Avon Congregational Church in my home town of Avon, Connecticut. This includes the years I lived in Texas, and the year just after Mom died, when Jenny and I stayed at a hotel with no refrigerator and our breakfast consisted of leftover pizza that froze in the car.
It's likely that I missed a few years early in my life. I doubt I attended the year I was born, but it's a streak running for well over thirty years and counting.
We rarely get to Avon anymore. We live forty-five minutes away and no longer have any family in town, but Jenny and I still return each year on Christmas Eve.
It's good to have traditions, especially when you don't know how much longer they will last. It makes you appreciate the moment more and stay connected with your past.
Like all things, traditions inevitably change.
The newest part of our tradition is pulling into a nursing home parking lot and shining the car's headlights on my childhood home. Not to harass the new family, just to see if they've chopped down my grandparents, whose ashes are both buried under a tree in the back yard.
Mom believed the tree was connected to their spirits because for the first few years it grew no leaves on top, like Grandpa who was bald.
It wasn't until after Grandma's ashes joined that the leaves reached all the way to the top. Mom thought this meant their spirits were at peace, but I remember what their marriage was like and think they were each just trying to get more space.
West Avon Congregational Church (or WACC as they call it on the streets) is a beautiful white church in the classic New England style with padded wooden benches, two lecterns and a simple wooden cross above the altar.
The cross is made from the wood of the original church, built in eighteen-hundred something. The exact year isn't important to appreciate the sentiment.
Jenny once noticed that the cross' shadow makes it look as if it's wearing a superhero's cape, which reminds her of His powers. Super Jesus, right in my home town.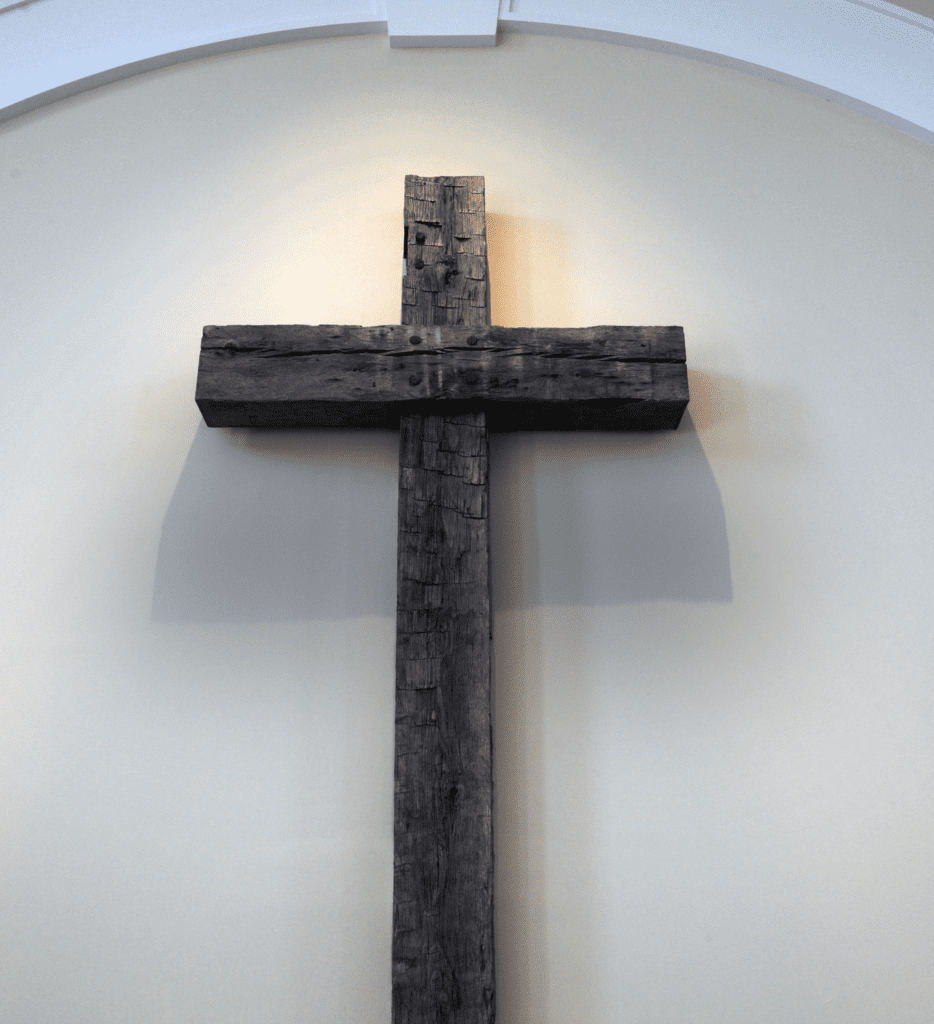 Upon getting to the church, I always have a coat dilemma – whether to hang mine in the lobby or bring it into the sanctuary.
If I bring it with me, it's extra padding on the bench, or an extra layer if I'm cold. But, there's always an announcement near the end of the service to put on our coats before the candles come out – something about fire safety. When that happens, I get hot for the last few minutes, while holding fire, which isn't my preferred way of singing Silent Night.
Before sitting, we meet the greeters, which is a role I played many times before realizing that shaking hands with a church full of people in December guarantees that you'll get sick.
I'm always excited to see who the greeters will be – it's a let down when it is a family I don't know.
Inside the church, I scan the faces already sitting in the pews, waving to anyone I know. That group gets smaller every year as more of the families I grew up with move from town (or out of this world), but still, it feels like home.
I have a lot to think about when looking around the church. My brothers and I each attended the attached preschool, and Mom sat on that Board. Jenny was once the church's Outreach Director, managing the church's charitable donations.
Inside that room, I've been baptized and confirmed, delivered Mom's eulogy, and taken Jenny as my wife.
I've performed in the Christmas pageant in front of the entire congregation. One year, I got a big laugh playing the innkeeper when the youth coordinator told me to speak louder and I shouted with all my might (and a dash of attitude), "THERE'S NO ROOM FOR YOU, JOSEPH!"
I was always cast as a shepherd after that.
In those pews (I've probably sat in every one), I've had giggling fits and wept – read the Bible, sung from hymnals, and, occasionally, slept.
It's comforting that whatever's happening in my life – in times of grieving, celebration, or puberty – no matter what is happening, for at least an hour every single year, all is calm and all is bright.
NEXT WEEK: New Year, New Perspective
If you enjoy my columns, please subscribe below.
If you want to syndicate this column, you may contact me here to discuss the details.
You may notice that I've disabled commenting on this post, but I'd love to hear your thoughts by email at [email protected]
Share this column on social media: